Larusmiani is the oldest luxury clothing and tailoring brand on Via MonteNapoleone, the heart of Milan's fashion district and emblem of Italian style, established in 1922. In 1950 a textile company was also established, when the founder of the company decided to put his knowledge of raw materials to use not only for his own creations, but also to supply fabrics to other tailors.
The company continues to invest in research and development, focusing on a collection of Italian fabrics, and skilfully combining tradition, innovation, practicality and performance. To name a few, in the 80s Larusmiani was the first to produce polished cotton for trousers, steel cotton and Sea Island cotton for clothing. On the front line, furthermore, is the original revisitation in 100% cotton of winter articles in wool such as Saxony, or the use of Ice Cotton for clothing, for which Larusmiani still holds the exclusive. A fabric with a rich history is Spinker Drill: developed during the Second World War for British army uniforms for its breathable and insulating properties, today it is still a Larusmiani collections classic.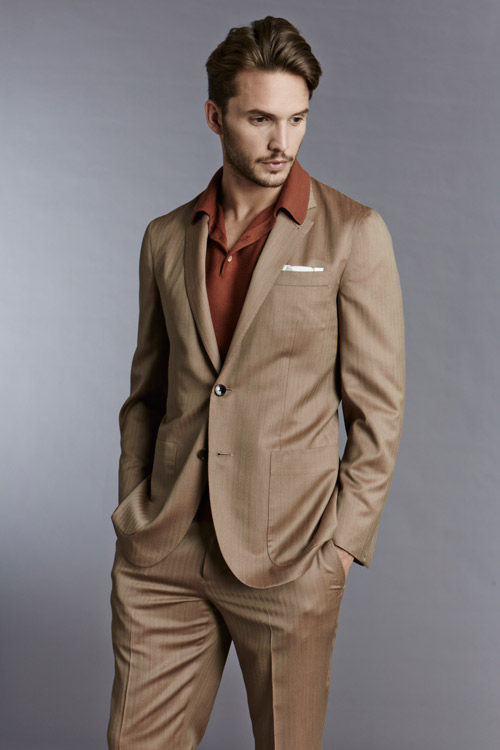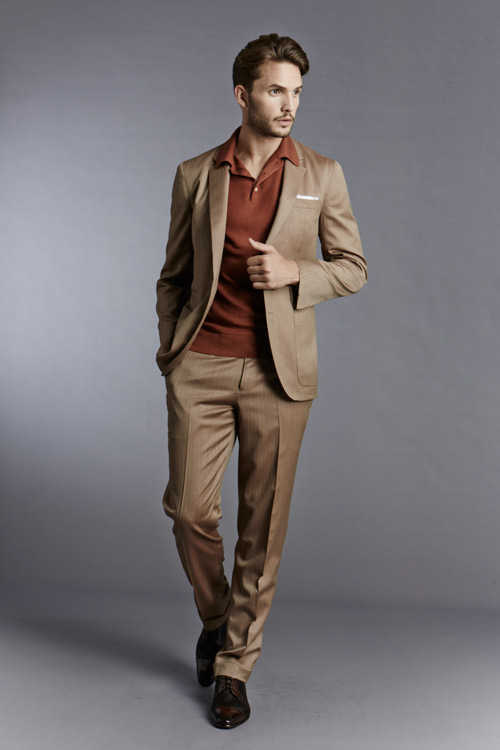 The Larusmiani man for Spring/Summer 2015 is elegantly casual. He plays with shapes and colours to create new balances.
Inspiration comes from the Miani family library, and immediately it is style. The socialites and celebrities in Slim Aarons' photographs embody 'Fifties Hollywood, Rome's Dolce Vita and the sunny beaches of Acapulco. The jet set is portrayed with naturalness while living a high life symbolic of luxury, but also elegance and charm. The pages of Julia Chaplin's Gypset Travel portray a more bohemian allure, fashionable exoticism and exclusive ease.
Elegantly casual, the Larusmiani man plays with shapes and colours to create new balances. He wears ultralight pieces where the rigour of the lines is softened by the fluidity of the fabrics – jackets have a leaner cut for a more modern look and trousers lose their pleats to become tapered.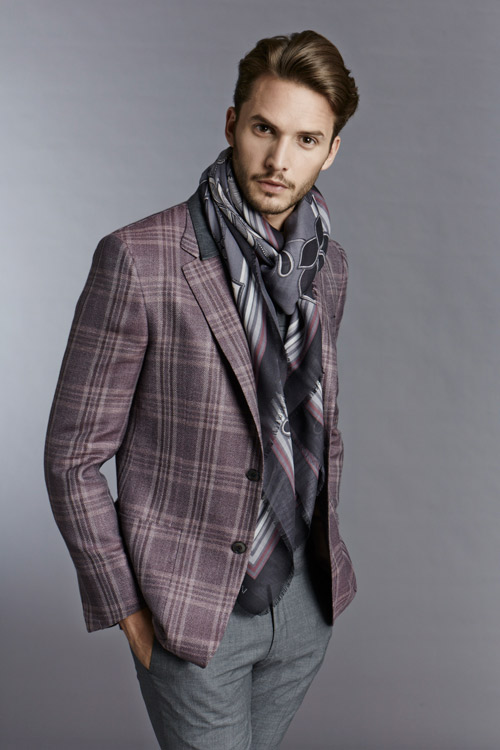 A collection where rigour becomes sobriety and measure, while the details that ennoble the clothes, pairing leather with crocodile and suede with silk, are dosed in such a way as to make everything wearable on a variety of occasions for a man who dresses with versatile elegance – from morning to evening and from work to leisure-time - and always stands out from the crowd. He never forgoes expressing his eclectic spirit, has personality and dares to wear the delicacy of pearl grey and pale pink, and then amaze with flashes of colour from the lands of North Africa – date red, mocha, plum and dove grey alongside all the shades of blue. A gently provocative game in which colours vibrate on shirts, outerwear, foulards and ties and on prints with a gypsy feel that give personality to the entire collection, honouring Larusmiani style in a new vein, precisely because it results from research among the Maison's collection archives. Ideas from the past for new patterns, designs and colour combinations.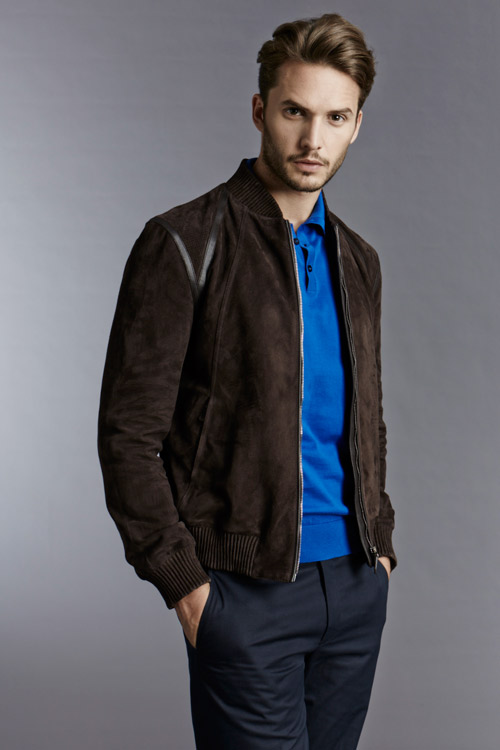 In line with Larusmiani tradition, high end tailoring characterizes every piece, from shirts and outerwear to handmade pullovers in an exclusive fresh and light fine linen yarn. Finally, there are the shoes, handcrafted with the meticulous attention to detail and absolute quality that are a feature of the entire collection. The energy of the colours and re-interpretation of timeless classics marry with Larusmiani's sartorial construction to give life to a collection that transcends the clothes to tell of the life of a man in evolution with the times and in harmony with the world around him.